It affects 10% -15% of women between the age of 18 and 50 years.
The etiology is malfunctioning of venous valves which produces dilatation of pelvic veins around the uterus and ovaries.
Many patients remain without symptoms and DO NOT require any form of treatment.
Others have chronic pelvic pain or heaviness (increased with sitting or standing), severe pain during intercourse, mensturation or urination. Other symptoms are atypical or recurrent lower extremity varicose veins.
Many of these symptoms may be caused by other conditions. Therefore, a thorough gynecological evaluation is required.
The diagnosis requires a high index of suspicion from the vascular surgeon.
The diagnosis is confirmed by Duplex Ultrasound and Computed Tomographic (CT) Venography. Both demonstrate dilated pelvic veins (pelvic varices) around the uterus and the ovaries, as well as dilated ovarian veins.
Treatment is required ONLY for symptomatic patients.
Patients with mild symptoms may benefit from medical treatment.
In severe symptoms they require a minimally invasive procedure called embolization of abnormal veins. Under local anesthesia, the Vascular Surgeon punctures one vein of the leg and, using special catheters and wires, reaches the abnormal veins in the pelvis. Then he occludes these veins using state of the art endovascular devices.
The following day the patient is discharged from the hospital and recovery is immediate and without pain. Resolution of symptoms is immediate and complete.
The following pictures are from a female patient who had severe symptoms for 20 years, which resolved immediately after successful embolization.
---
Pelvic Congestion Syndrome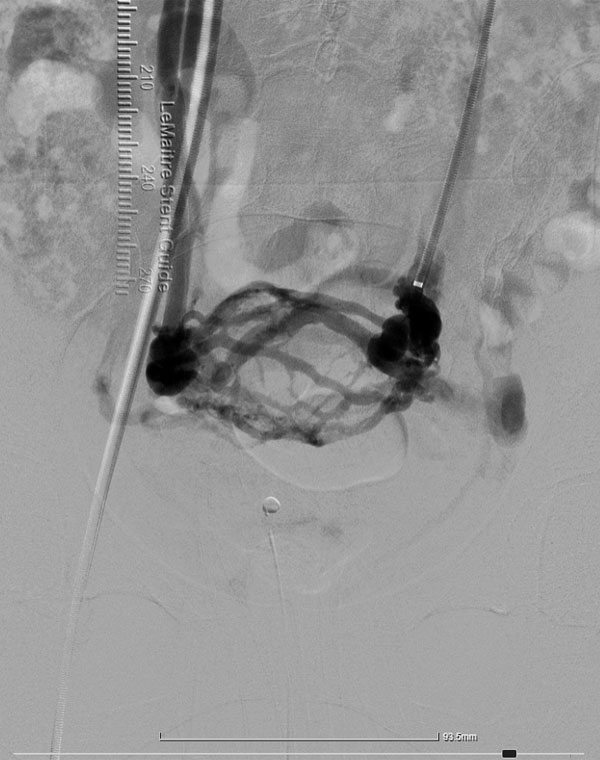 Pelvic Congestion Syndrome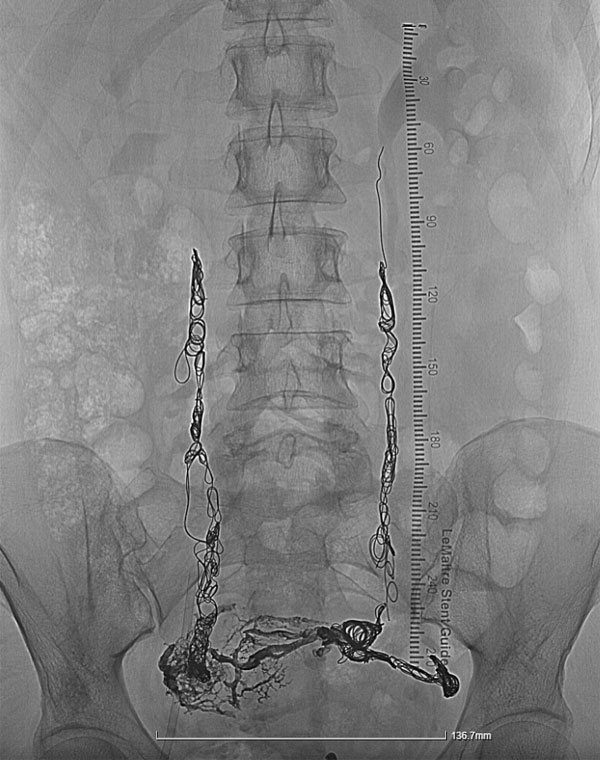 Successful Embolization
---