During embolization, one or more vessels are occluded using dedicated endovascular devices (microcatheters, embolic materials).
Under local anesthesia, the vascular surgeon punctures the femoral artery (artery that goes to the leg) or the brachial artery (artery of the arm). By using special catheters, he gets close to the vessel. Then he uses very thin catheters (microcatheters) and he goes inside the vessel. He performs the embolization by using special coils or synthetic liquid material which becomes solid upon contact with blood.
Embolization in vascular surgery is used in the following conditions:
1. Bleeding vessel
This is an urgent procedure performed when an artery or a vein is bleeding, either spontaneously or after trauma. Using the above-mentioned techniques, the vessel is occluded, bleeding stops and the patient avoids an open procedure
2. Endoleak after endovascular repair of abdominal aortic aneurysm
After endovascular repair of abdominal aortic aneurysm, the sac is usually completely thrombosed. In some patients, small branches either at the back (lumbar arteries) or at the front of the aneurysm sac (inferior mesenteric artery) remain patent and continue to drop blood inside the aneurysm sac. This is called Type II endoleak. In most patients, no treatment is required and serial follow up is performed with Ultrasound or CT scan. If the  aneurysm sac enlarges, embolization of the endoleak and of all feeding vessels is performed.
---
Embolization of endoleak from inferior mesenteric artery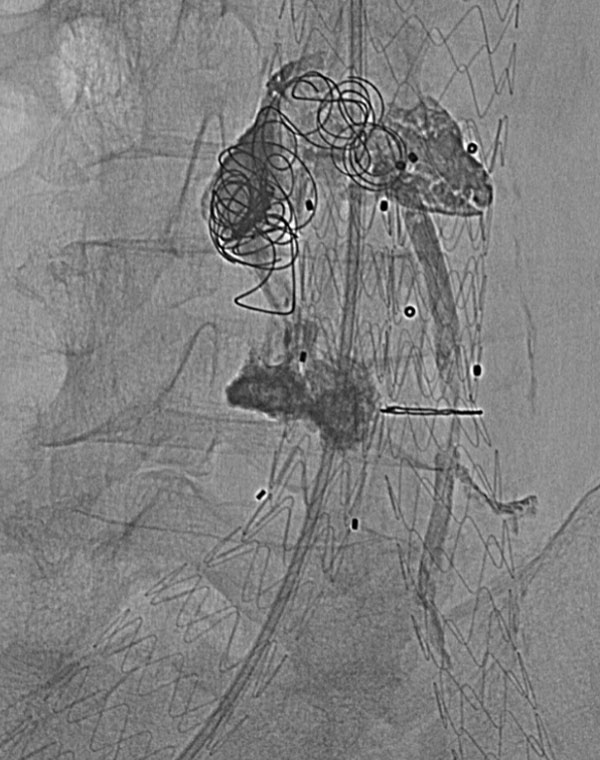 Embolization of endoleak from inferior mesenteric artery
---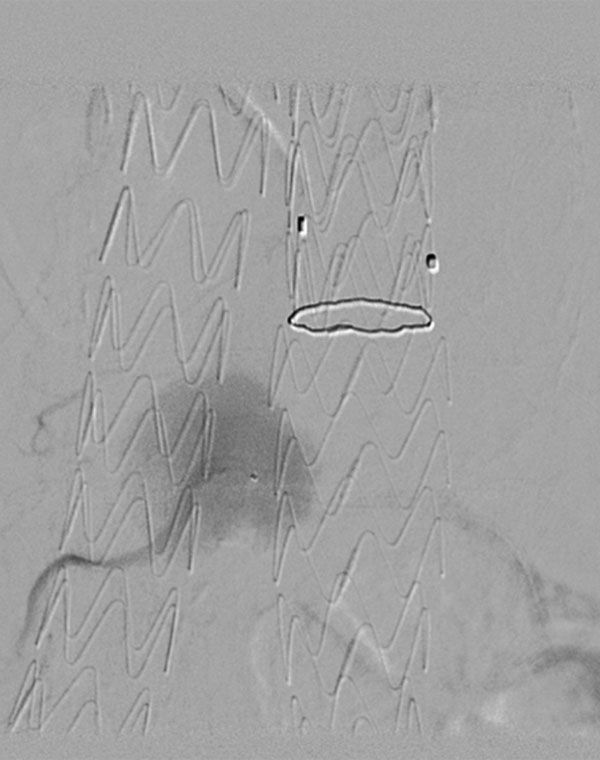 Endoleak from lumbar artery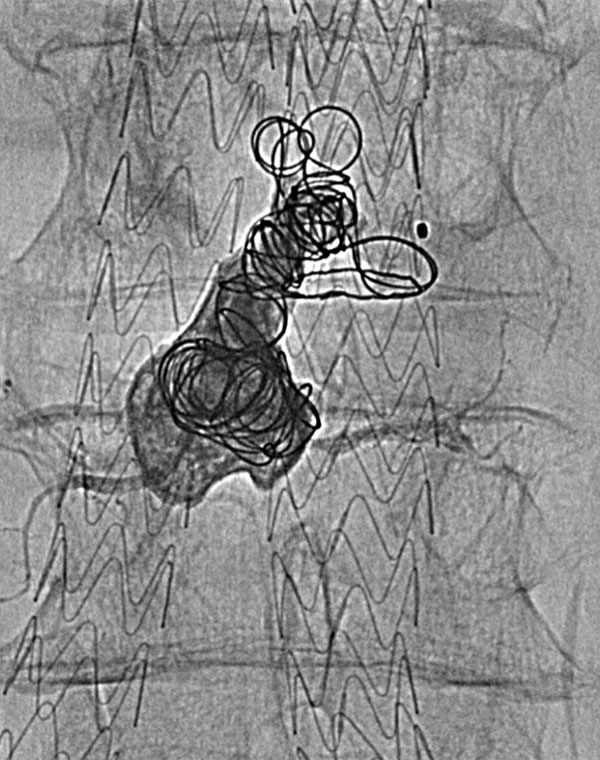 Embolization of endoleak from lumbar artery
---
In these cases, embolization can be performed either alone or in conjunction with special stents.
The goal is to:
a) maintain normal organ perfusion
b) occlude the aneurysm sac in order to prevent rupture
4.Vascular Malformations (please refer to "vascular malformations")
The outcome of embolization is excellent when:
a) it is performed by experienced vascular surgeons
b) it is performed in a state of the art hybrid operating room which combines the safety of the operating room with the superb image capabilities  of the angiography suite.
c) last generation embolization devices are used